As you start packaging finished goods, Packaging Material inventory will be depleted. To get started, you will need to add in all the Packaging Materials you use, and how much you have on hand.
The recommended way to do this is via the bulk import option. Doing so, will also update your Packaging Materials database (found under the dial in the top right hand corner).
How to Import Packaging Materials and Inventory
1. On the left hand side, under Inventory, click
Packaging Materials
2. Click the
Import
button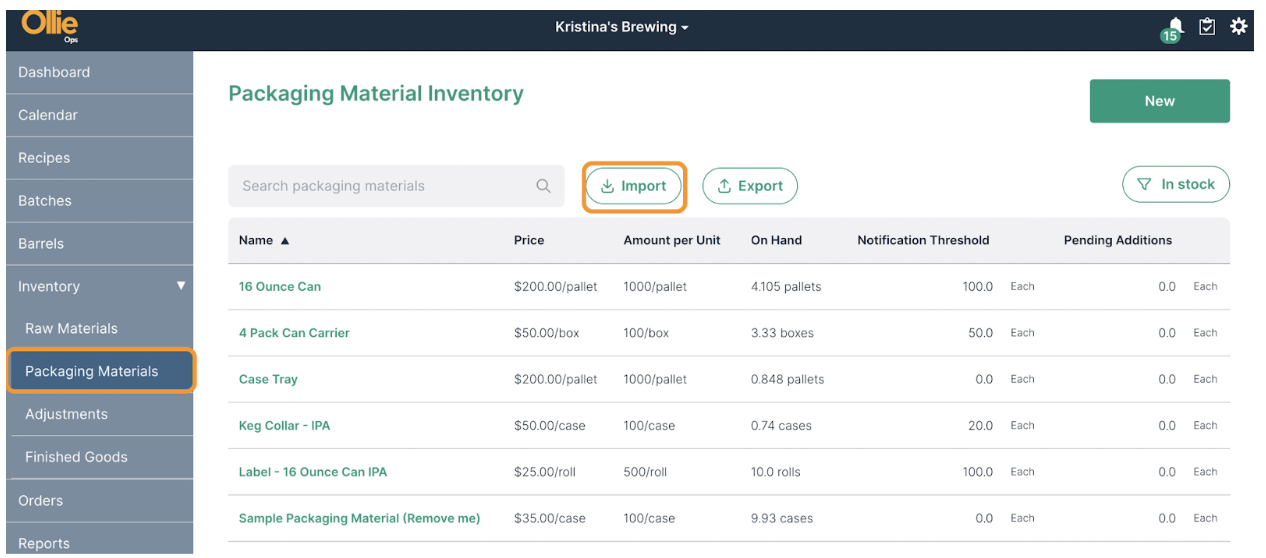 3. Click the
Download Template
button
4. Fill out the template according to the column headers, but be sure to delete the first line (which is an example). A description of what is needed for each column can be found on the right hand side of this screen.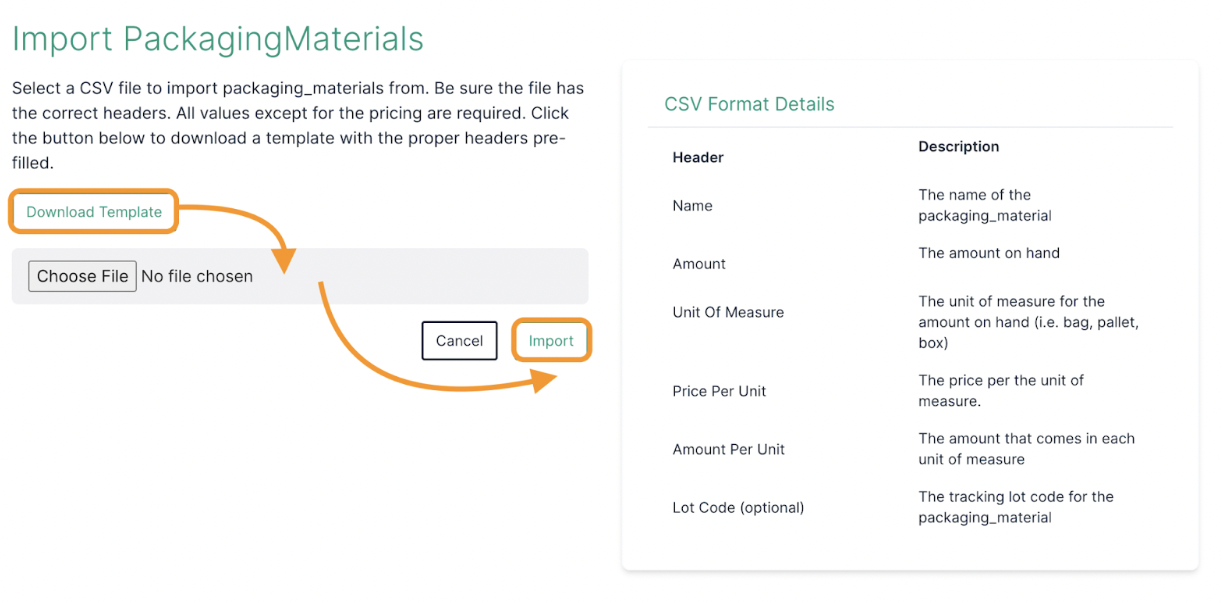 5. Drag and drop the completed file into the import box and click
Import
Tip: When adding Packaging materials, make it clear when an item is generic and used for many products, and when an item is specifically branded for a particular product. If you have a type of packaging material that you create custom for different products, consider listing it something like this Box - 6 pack bottles Belgian, Box - 6 pack bottles Amber etc so they are all grouped together. You will use your list of Packaging Materials to populate your Bill of Materials when creating products.
Once you have used the bulk importer tools to add your Packaging Materials and inventory, all the materials will be added to your Packaging Materials database found under the dial in the top right hand corner. To make ordering and receiving inventory efficient, you will want to set your preferred vendors and how you purchase each ingredient.
How to Edit or Delete Packaging Materials and Inventory
Go to the dial in the top right corner and select
Packaging Materials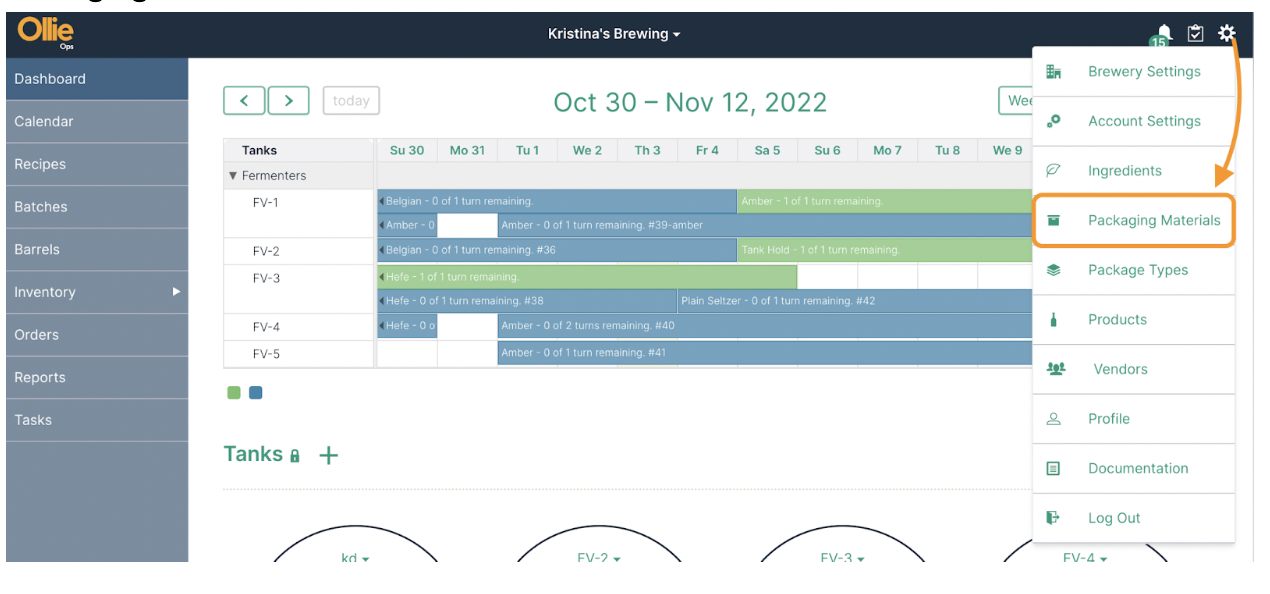 To edit
an material, click
the three dots
on the right hand side of corresponding line and select
Edit Item
:
Update the following options accordingly and then click update
Name of the material

Preferred Vendor = this will help auto-populate purchase orders when you purchase and receive more inventory

Preferred Amount per unit = How much of the product comes in a typical package when you purchase it (this needs to be a number)

Preferred Quantity unit of Measure = what form, does purchasing this item usually come in (pallet, roll, box etc.)
Note: If you purchase multiple packaging materials from the same vendor, or purchase with the same unit of measurement (or both), you can bulk edit (or bulk delete) items by checking multiple materials boxes and then selecting the Batch Actions button.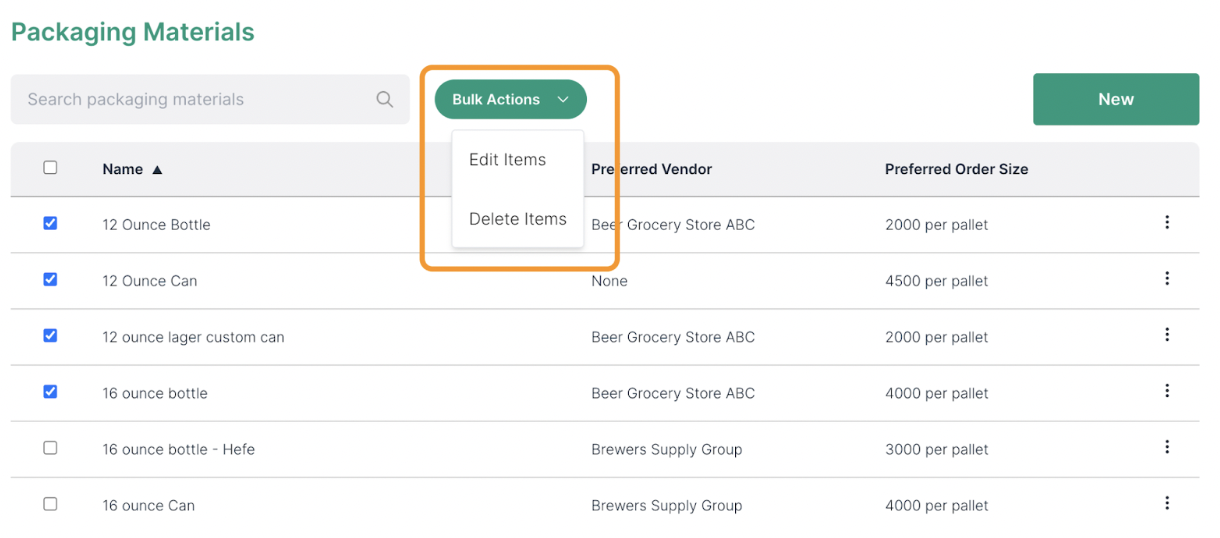 To delete
a material, click
the three dots
on the right hand side of the corresponding line and select
Delete Item.
Confirm the decision by clicking
ok
.
For more information on adding ingredients manually and adjusting ingredient inventory, visit the Help Centre article, Packaging Materials Set-up.