Once your Ollie Ops and Ollie Order accounts are integrated, you'll be able to transfer Finished Goods Inventory from Olle Ops over to your Ollie Order warehouses, to manage the sales.
Step 1: Login to Ollie Ops
Step 2:
Under the dial in the top right hand corner, click
Brewery Settings
Step 3: Select the
Integrations
tab
Step 4: Click
Configure
under the Ollie Order option
Step 5: Copy the unique API key that is generated (
note: save this key to your files,
because as soon as you navigate away from this page, we will not be able to retrieve or restore this generated token.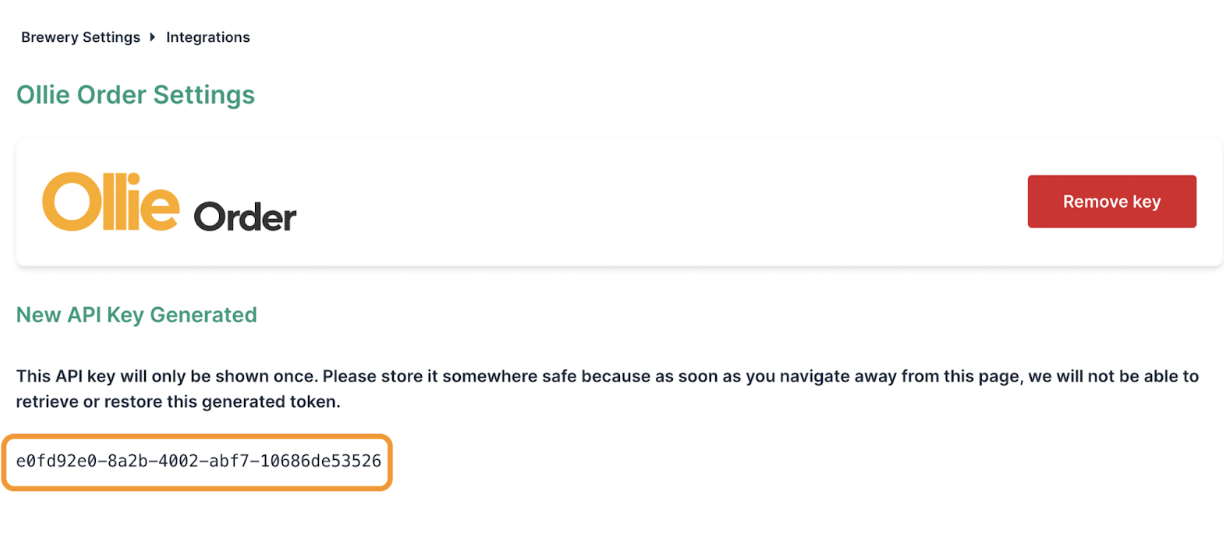 Step 6: Login to Ollie Order
Step 7: Go to
Settings
and click
Integrations

Step 8: Click
Ollie Ops
Step 9: Paste the API code in the Credentials box and click
Save
.

Step 10: Click the
Product Variant Mappings
tab
Step 11: All the products in Ollie Order will be listed under the Name column. Under the Ollie Ops Product column go through each product and from the drop-down box select the product that corresponds with the product as you have it listed in Ollie Ops. This action will automatically save and enables both sides of the system to know which product in the other system you are referring to when transferring Finished Goods Inventory from Ollie Ops into available inventory in Ollie Order.