---
Initial Setup
How To Create a Warehouse
Under Inventory > Warehouses click on the + New Warehouse button at the top of the page.

Fill in the required fields under Basic Info and Location. If you would like to be able to control and monitor inventory within the warehouse, be sure to check the Inventory Controlled box. Inventory controlled warehouses will monitor inventory going up and down according to orders, transfers and adjustments.
You can leave the inventory control off for warehouses that you are using to vanish product (account for breakage, product sent out of Province etc.), but in most cases you will want inventory controlled warehouses.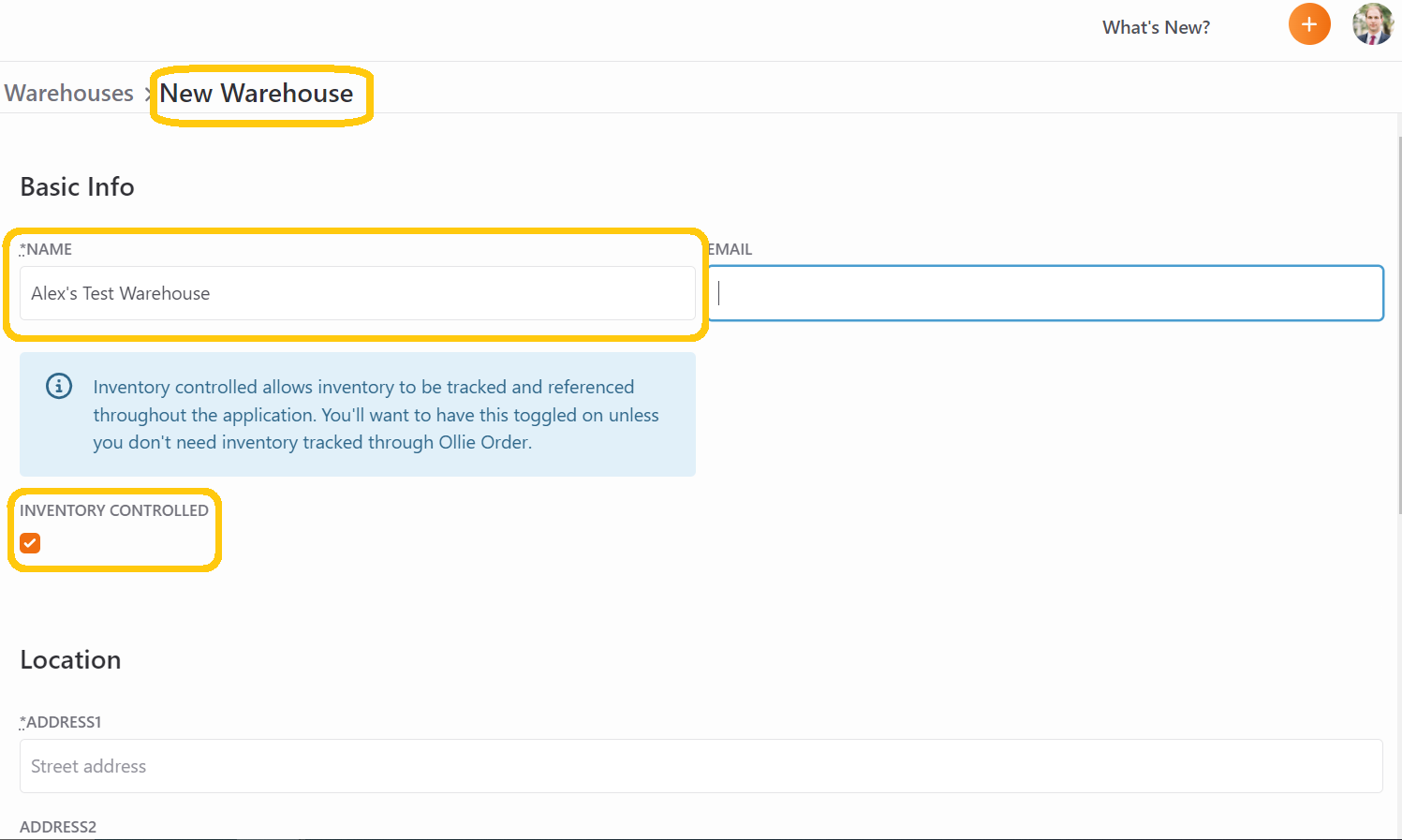 Note: You will be required to create a unique name for each warehouse.
Click Create at the top of the page once complete.
How to Edit a Warehouse
Under Inventory > Warehouses click on the name of the warehouse and then click

edit

.

Make any required changes and then click save.
---
Product Inventory
You can easily manage which products are available within each warehouse.
Click on the warehouse you'd like to manage:

From there, click on the Products tab at the top. On this page you can then toggle ON or OFF the products you'd like to include in this particular warehouse.

---
Warehouse Fulfillment Methods
Fulfillment methods (like delivery or pick-up) can be enabled on a per warehouse basis. Once a fulfillment method is enabled on a warehouse, you will be able to select that fulfillment method on your orders.
Fulfillment Methods can be created, enabled and disabled under Setting > Fulfillment Methods.
To add a new Fulfillment Method as an option, select + New Fulfillment Method.
To add a Fulfillment Method as an option for a particular warehouse, add it under Inventory > Warehouse > Click the Warehouse > Click Access and the toggle ON any Fulfillment Methods applicable for that warehouse.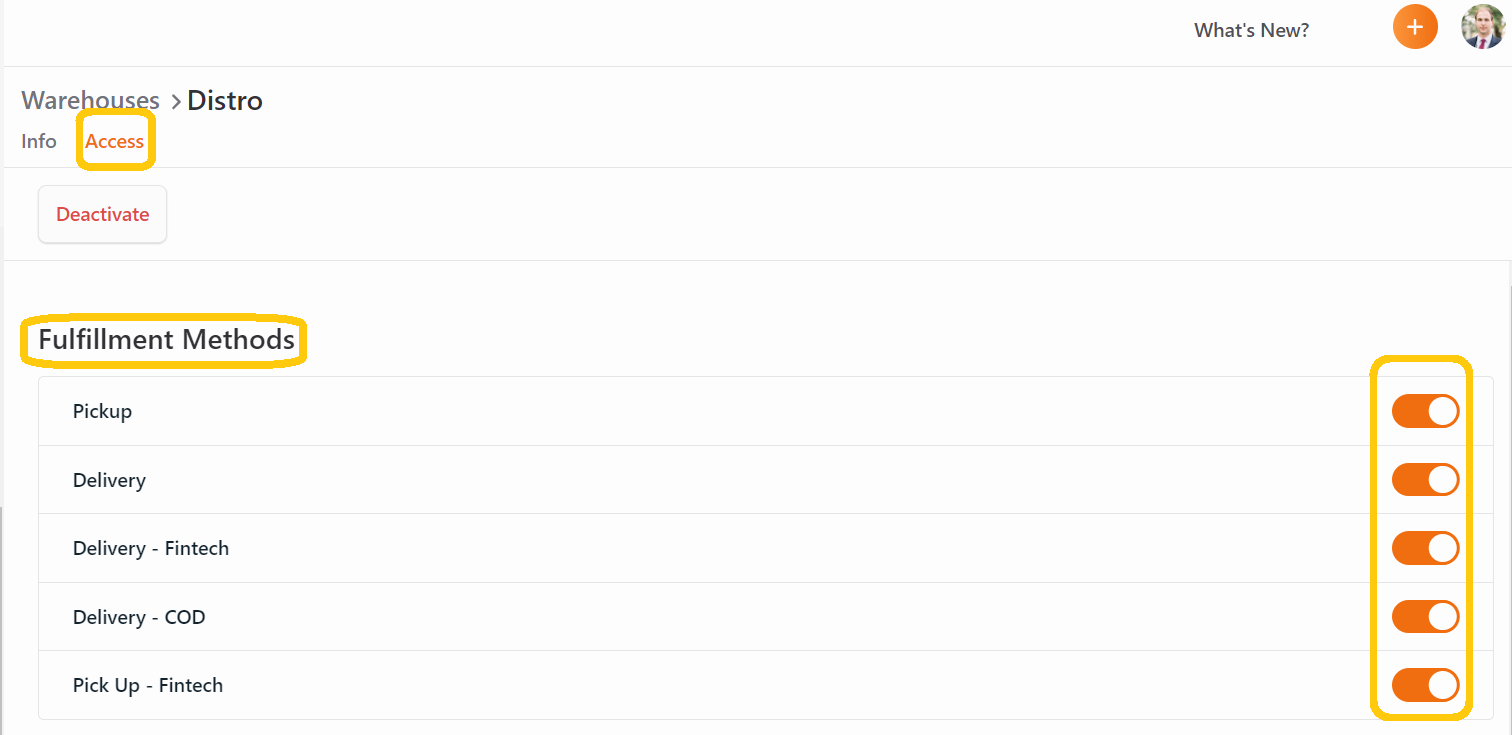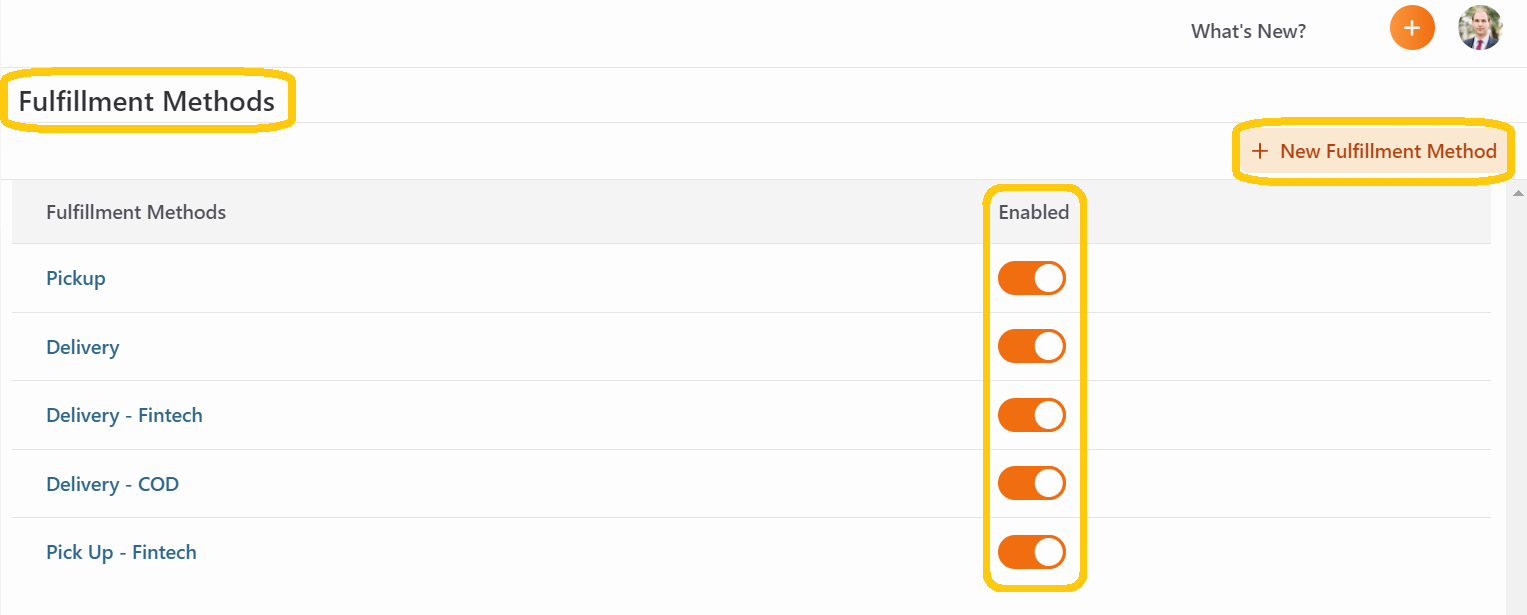 ---
Warehouse Organization Access
The organization access feature gives you the ability to share your warehouses with other organizations. Once an organization has access to your warehouse, they will be able to select your warehouse on order and any fulfillment methods you have enabled on that particular warehouse.
To give an organization access to your warehouse, scroll down to the Access section and click on the Organizations tab. Here, you will see a list of the organizations that have been given access to your warehouse and a search bar.
Clicking on the search bar will open up a drop-down menu. Begin typing the organization's name and once you've found them, click on their name to give them access.
Note: you can remove an organization's access by clicking on the red Revoke button next to their name. You can always enable their access again if needed.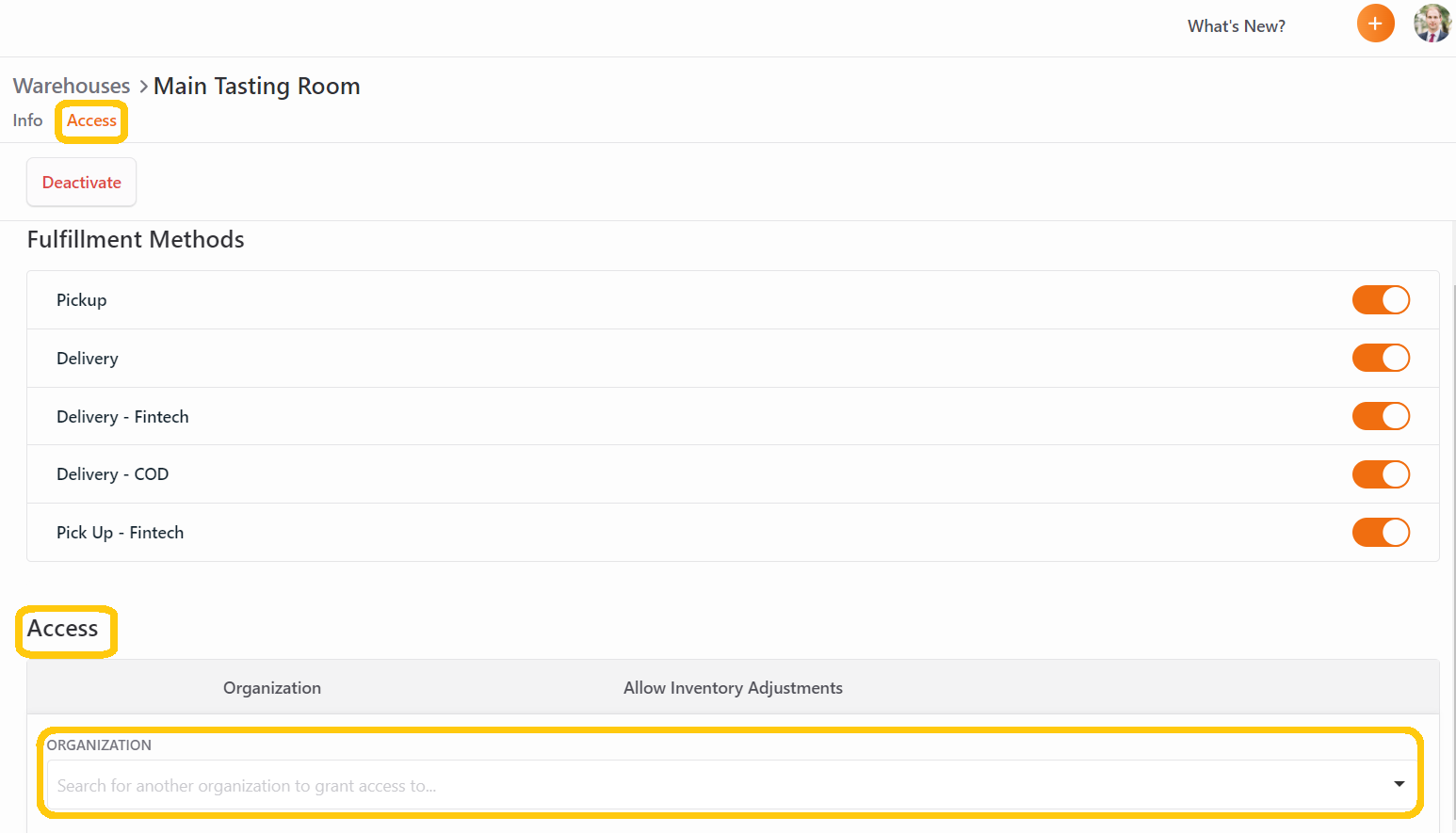 ---
How to Deactivate and Reactivate Warehouses
Warehouses cannot be completely removed from your account, but if you no longer require the use of a particular warehouse you can deactivate it.
Before proceeding you must first remove all inventory from the warehouse by way of transfer, adjustment, or ordering down to no inventory.
To deactivate a warehouse, select Inventory > Warehouses and then select the three dots [...] next to the warehouse you'd like to deactivate. Within that drop-down is a deactivate button. You can perform the same operation if you ever need to reactivate that warehouse.
Deactivate:
Activate: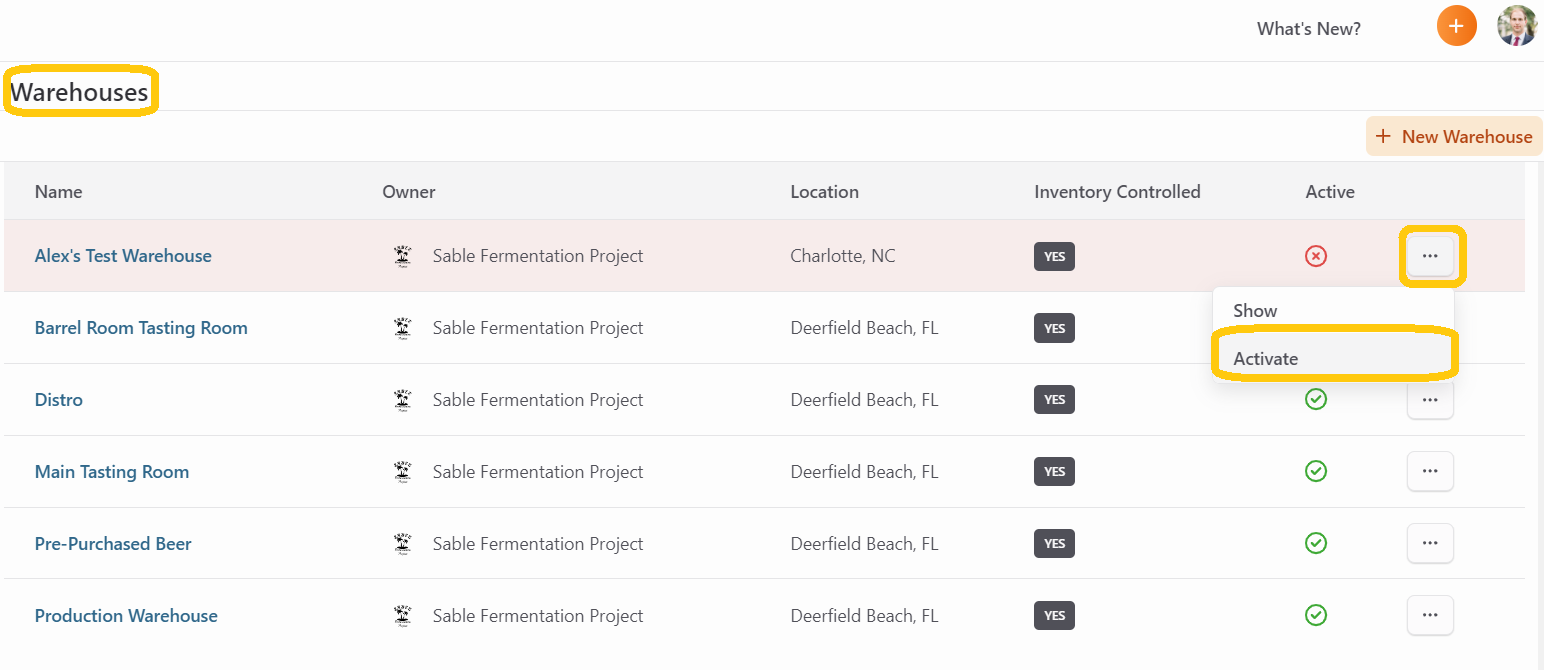 And that's it! You now know everything there is to know about creating & managing warehouses in Ollie Order. If you have any questions, please reach out to our support team, we're always happy to help 😊